WHY WE NEED AN ELECTRIC FIREPLACE TV STAND
Nowadays, electric fireplaces have become a lot more popular. With the cost and health issue associated with using traditional fireplaces, many people switch to electric fireplaces instead. These electric fireplaces provide warmth and ambience of burning logs in a room without actual smoke or emission. Besides serving as a supplementary heat source and decorative item, an electric fireplace can also act as a TV stand to accommodate the television and other electric components. There are various reasons why we should purchase such item for our bedroom or living room:
It provides triple benefits: heat source – beauty and practical usage
An electric fireplace TV console is first and foremost an electric fireplace. It is used to provide warmth for the room like a supplement heat source. While not being able to heat up the whole grand room like a traditional fireplace, an electric fireplace is very efficient for supplement heating: it only focuses heat on the area you need.
Also, an electric fireplace is a great decorative item. It adds aesthetic value to the room in a way an ordinary TV stand can't.  Evening though the effect of burning log can't match the true ambient from real fire, thanks to advances in technology, the fire looks more and more lifelike. Since you have the option to use the fireplace without or without heat, you can enjoy the flame effect all year round. A well-placed electric TV stand can easy become a room's centerpiece.
As a TV stand, this device comes with separate shelves to store DVDs and CDs. This is a perfect TV console to add the finishing touch to your room.
It comes in various designs and types.
An electric TV stand is no boring TV stand. There is a wide variety of mantle styles and finishes for you to choose from. They can be traditional, contemporary or corner styles.
Traditional TV consoles have classic designs and cabinets for storing equipments and CDs or DVDs. It has a flat top surface to place a flat-screen TV. Normally, it is made from wood.
Contemporary TV consoles are often wider than traditional ones. It can also be made from wood; however other materials like metal, glass or stainless steels are mainly used to give off a modern vibe. Corner units are designed to make use of unused space in the corner. It can come in both traditional and contemporary designs and can be made from various materials.
It is easy to install
Electric fireplace TV stand doesn't require any remodeling jobs. There is no chimney required. What you need to do is finding a suitable location near an electric outlet. Note that the use of extension cord is not recommended. The device operates when you plug it into a standard electric outlet. You may not even need the help of a professional, except when it comes to the electric system and there is no spare outlet available.
It is convenient
An electric fireplace TV stand often comes with the remote control so you have to get up to change the heat setting or set the timer. As mentioned above, you can use it without or without heat.
It is safe and environmentally friendly
Since the device only requires electricity to run, there is no actual burning of wood and eventual harmful health effect. Gas leak or explosion is out of the question. Even kids can place their hands on the cool surface without worrying about burns or scalds. Also, thanks to the automatic shut-off feature, overheating can be avoided. The risk of fire is actually very low.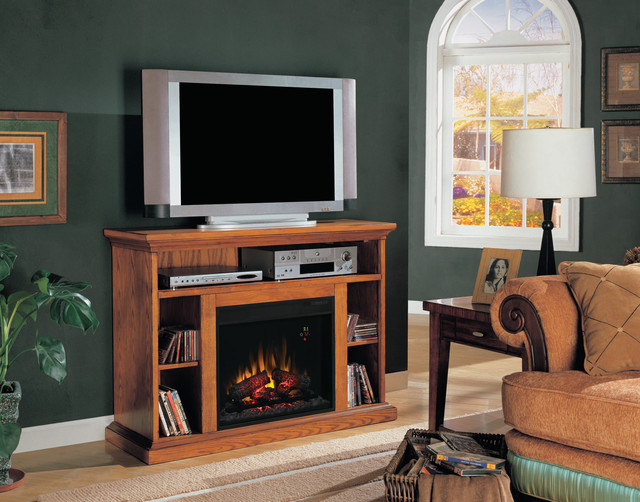 It requires very little maintenance
You only need to perform basic periodic maintenance (mostly in the form of cleaning and changing light bulb), which virtually cost you nothing
It is efficient and cost-saving
In running this TV console, you normally don't have to worry much about the electricity bill. The heat doesn't come out of the room through chimney but focus on the area you want instead so there is no waste of energy. There is barely any maintenance cost or installation to add to the cost too.